5 Creative Ways to Express Your Faith With Christian Jewelry.
Are you looking for unique and stylish ways to celebrate your faith as a follower of Christ? Look no further! In this article, we will reveal five creative ways to express your divine beliefs through religious jewelry. This type of jewelry is not only a beautiful way to complement your outfits, but also a powerful means to express and share your faith. In a world where people are becoming more open about their beliefs and values, jewelry offers a unique opportunity to showcase your spirituality with style and elegance. With Glor-e's vibrant collections, you will discover pieces that not only reflect your divine beliefs but also elevate your style. Get ready to be inspired and transform the way you wear religious jewelry. Read on to uncover these creative ideas that will surely make you shine!
Stackable Rings with Inspirational Messages.
Stackable rings with inspirational messages are a simple yet creative way to express your Christian faith. These unique rings allow you to mix and match various designs. Each can feature a different message or symbol that resonates with your style and beliefs. When you wear these rings, it is like carrying a little piece of encouragement and motivation on your fingers.
For those who love to showcase their faith in a fashionable and versatile manner, stackable rings are the perfect choice. You can choose rings with Bible verses, uplifting phrases, or religious symbols that hold special meaning to you. As your faith grows and evolves, you can add more rings to your stack, creating a personalized testament to your spiritual journey. Cool, right?
Another great graceful aspect of stackable rings is their ability to start meaningful conversations. When others notice your beautiful and unique religious rings, it opens the door to sharing your faith and connecting with like-minded individuals. These rings also make thoughtful gifts for friends and family, helping them feel supported and loved in their faith journey.
Versatility is another perk of stackable rings. You can wear them individually for a more subtle expression of your beliefs or stack them together for a bolder statement. This flexibility allows you to adapt your jewelry to different outfits and occasions, ensuring that your faith remains a central part of your everyday life.
Layered Necklaces with Crosses and Other Christian Symbols.
Layered necklaces with crosses and other Christian symbols are a fashionable and inspired way to share your faith with the world. These necklaces let you combine various designs, inspiring pendants, and lengths depending on your unique style and preferences. Wearing layered necklaces is like adorning yourself with a beautiful testimony of your faith journey.
One of the most appealing aspects of layered necklaces is their versatility. You can mix and match different chains, pendants, and charms to create a customized look that truly represents your faith. Crosses, angels, fish, and other Christian symbols can be combined to tell your own unique story of devotion and spirituality. These necklaces can also inspire curiosity and encourage others to explore the beauty of Christian symbols and their meanings. So, do not hesitate to wear your layered mix with confidence.
In addition to their stylish appeal, layered necklaces can be easily adapted to suit any outfit or occasion. Whether you're dressing up for a special event or simply running errands, they are sure to add a touch of elegance and meaning to your look. You can even swap out individual pieces to create new combinations, ensuring your faith remains an integral part of your daily style.
Christian Charm Bracelets.
Christian charm bracelets can help you share and celebrate your faith in Jesus in creative ways. These bracelets feature a wide variety of meaningful charms that represent important aspects of Christianity. This allows you to create a personalized piece of jewelry that uniquely reflects your faith and values. With each charm representing a different aspect of your divine conviction, a charm bracelet can become a beautiful symbol of your spiritual journey.
The customizable nature of these bracelets is one of their strongest selling points. You have the option to choose charms that include crosses, angels, and Bible verses, to create a piece that is truly unique to you. As your faith matures, you can continue to add new charms, making your personal jewelry a living testament to your spiritual growth.
Not only are Christian charm bracelets visually appealing, but they can also serve as a constant visual reminder of your faith. Each charm can hold a special meaning, providing encouragement and inspiration as you go about your day. Wearing a charm bracelet can help you feel more connected to your faith and can subtly remind you of God's presence in your life.
These bracelets are also suitable for all ages and occasions. With their adjustable designs and the wide variety of charms available, they can be tailored to fit anyone's style and preferences. Whether you're dressing up for a special event or simply seeking a daily reminder of your faith, they provide an original and creative way to express and share your faith.
Personalized Scripture Jewelry.
When you personalize your jewelry with a bible verse or an inspirational message, you effortlessly add an uplifting and authentic touch to your style. Go with verses or messages that hold a special meaning to you. In doing so, you create a unique accessory that aligns with your beliefs and values. Wearing these custom pieces also helps you keep your favorite verses close to your heart and be reminded of God's love and guidance throughout the day.
Needless to say that the most appealing aspect of personalized scripture jewelry is the ability to choose a verse or message that resonates with you. It can be a passage that has helped you through difficult times or a verse that serves as a daily reminder of God's promises. Having it engraved on a piece of jewelry makes it even more meaningful, special, and personal.
Not only does personalized scripture jewelry serve as a constant source of encouragement and inspiration, but it can also help you express your faith with style and elegance. These pieces can be beautifully designed and crafted in various materials including different shades of gold, sterling silver, or other precious metals.
A piece of personalized jewelry can also make a thoughtful and meaningful gift for friends and loved ones. By choosing a verse or message that holds significance for the recipient, you can create a custom piece that will be treasured for years to come. This heartfelt gift can strengthen the bond between you and the recipient while providing a tangible reminder of your shared Christian faith.
Statement Pieces with Bold Christian Themes.
If you're looking to make a bold statement with your Christian jewelry, consider investing in a few statement pieces featuring striking Christian themes. These can include oversized cross necklaces or pendants, elaborate prayer beads, or intricately designed biblical scenes. When worn on special occasions or as part of your everyday wardrobe, these statement pieces will not only catch the eye but also provide an opportunity for conversation and connection with fellow believers.
Your Style, Your Faith, Your Choice of Christian Jewelry.
Expressing your Christian faith through jewelry is a creative and stylish way to share your beliefs with the world. Whether you prefer subtle and delicate designs or bold statement pieces, there is a vast array of Christian jewelry available to suit your taste and style. So, why not explore the many options and create a collection that reflects your unique faith journey?
Shop Our Collections Of Uniquely Crafted And Meaningful Faith-Based Jewelry Items.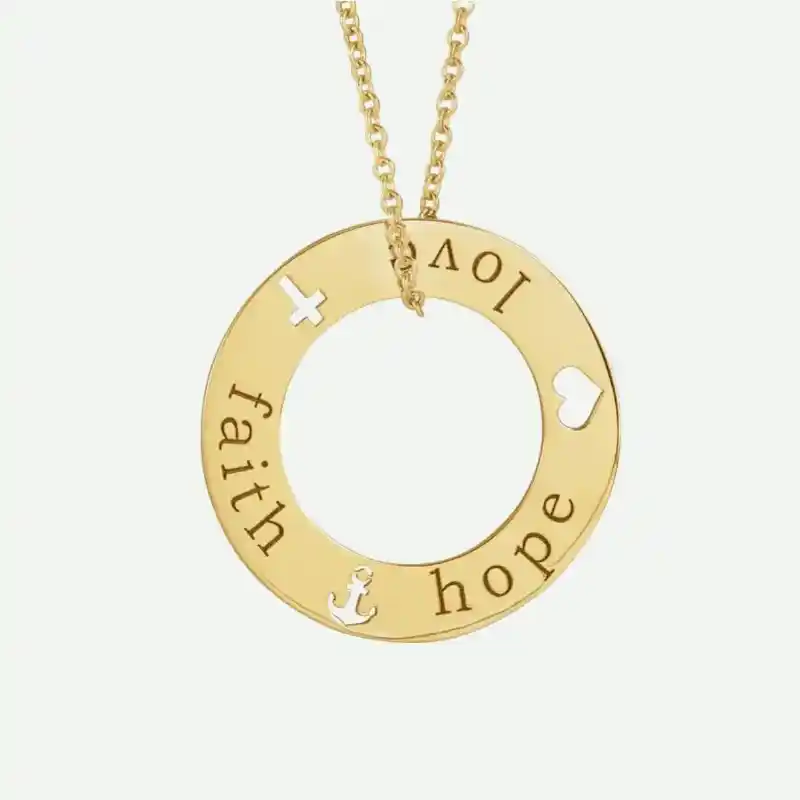 Glor-e offers a wide variety of Christian jewelry designed to help you express your faith with style and elegance.

Visit our online store to find the perfect pieces for your collection at the right price.

Enjoy free shipping on orders over $100, hassle-free returns, and a 30-day money-back guarantee.

Let your faith shine bright with Glor-e's selection of stunning and meaningful Christian jewelry.