The Significance of Cross Necklaces in Christianity
Have you ever looked down at the cross necklace that adorns your neck to ponder the meaning behind this simple yet profound piece of Christian jewelry? You certainly have, haven't you? After such an exercise, you'll agree that this jewelry item is not just an accessory you put on. But it is imbued with centuries of faith, love, and hope. It is a symbol that has journeyed through time, passed down through generations, and is now held close to your heart. Each time you wear it, you are part of a timeless narrative of faith that goes beyond fashion to the nature of your Christian lifestyle. This is the powerful story that your cross necklace embodies. Today, we will explore the meaningful world of cross necklaces and their importance in Christianity.
A Symbol of Love, Sacrifice, and Faith.
The cross, an emblem of love, sacrifice, and faith, has been at the heart of Christian symbolism for centuries. It signifies Jesus Christ's ultimate sacrifice for humankind, embodying the core principles of Christianity—love, faith, and hope. This deep meaning transforms a simple gold or silver cross necklace from a mere accessory into a heartfelt testament to one's sacred conviction. 
Expressing Inner Devotion.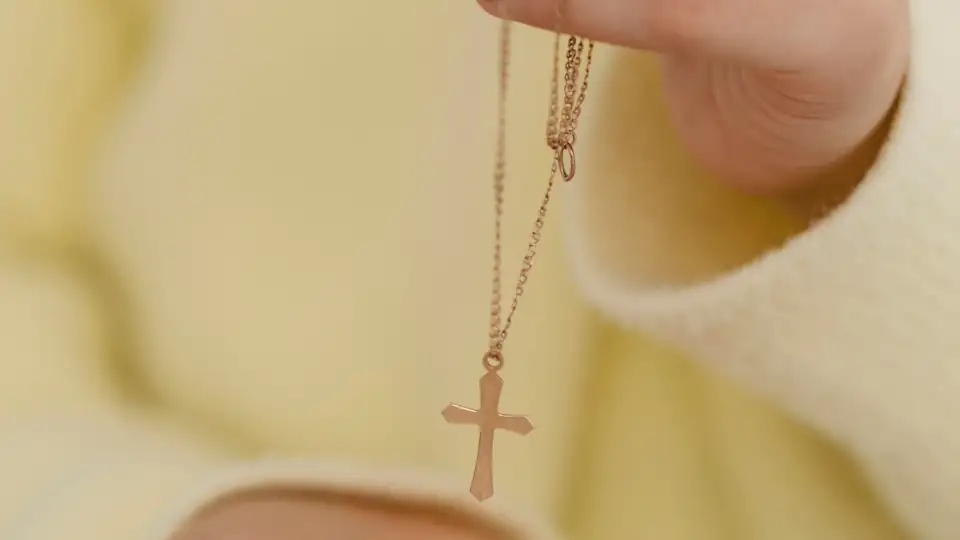 A cross necklace is a beautiful outward expression of inner devotion to Christian beliefs. It's not just a piece of jewelry; it's a sign of your commitment to live by the teachings of Christ. You embrace your Christian lifestyle and express a profound connection to your faith whenever you fasten that cross necklace around your neck.
Reflecting Your Unique Faith Journey.
Now, let's talk about the variety! Like the Christian journey, cross necklaces come in many styles and designs. You'll find everything from simple, understated pieces to intricate, bold ones. Whether you prefer a subtle design or a contemporary, eye-catching style, a cross necklace mirrors your unique faith journey. This diversity in Christian jewelry allows you to showcase your trust in a way that resonates with your style and beliefs.
Your Cross Necklace As A Conversation Starter.
Have you ever noticed how your necklace often sparks curiosity, leading to questions about your faith? Cross necklaces can be powerful conversation starters besides reflecting personal dedication. This provides a beautiful opportunity to share your beliefs and values, strengthening your connection to the Christian lifestyle.
A Constant Reminder of Christ's Love and Sacrifice.
A significant aspect of Christian jewelry, specifically cross necklaces, is their constant reminder of Christ's love and sacrifice. A glance at the cross pendant hanging from your neck serves as a loving reminder of His profound love and the path you've chosen to walk, filled with compassion, kindness, and faith.
A necklace with a crucifix also makes a thoughtful and meaningful gift, perfect for celebrating special occasions or expressing love and gratitude. Whether it's a birthday, confirmation, Easter, Christmas, or just because, a cross necklace can be the ideal way to celebrate and honor a loved one's faith journey. When you gift a cross necklace, you're not just giving a beautiful piece of Christian jewelry but a symbol of faith, love, and hope to be cherished for a lifetime. Each time they wear this chain, it will remind them of their faith and your special bond.
Testament of Faith and Fashion Statement.
In conclusion, keep in mind that your cross necklace is not just an ornament; it's a symbol that tells a story of faith, love, and hope. It's a personal statement, an expression of your unique journey, and a continuous reminder of your commitment to living the Christian lifestyle.
Shopping For Silver Or Gold Cross Necklaces?
At Glor-e, we understand the importance of expressing your faith uniquely and authentically.

We hope you continue celebrating and cherishing your faith with style and grace! Each piece you choose and wear in religious jewelry has its tale of faith and devotion. A cross necklace is more than a testament of faith; it's a fashion statement that enhances your Christian lifestyle, a piece of art that tells your unique story of faith.

Visit our online store for the perfect sterling silver or gold cross necklaces at the right price.

Our diverse collection is designed to honor the sacred symbol of the cross while celebrating the individuality of your faith journey. We offer only high-quality materials. Our crucifixes are made of precious metals, including 14K gold and sterling silver. We cordially invite you to shop our collection of cross necklaces, discover the pieces that speak to your heart, and add elegance to your expression of faith.

Enjoy free US shipping on orders of $100 or more, hassle-free returns, and a 30-day money-back guarantee.

Let your faith shine bright with Glor-e's stunning Cross Necklaces Collection.