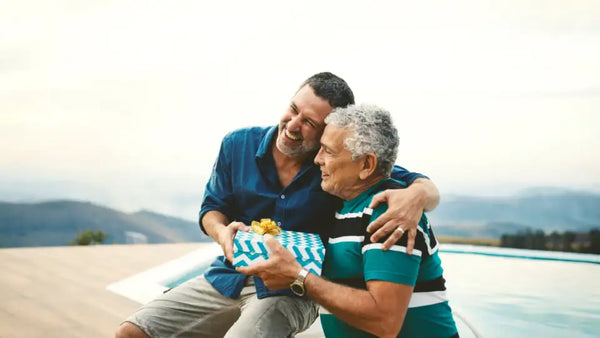 Meaningful Christian Gift Ideas for Father's Day.
When it comes to Father's Day gifts, it's essential to choose something that expresses gratitude for all the love, guidance, and support our fathers give us rather than just something generic. As the season for celebrating and appreciating our fathers draws near, we may need to look for the ideal present that conveys our affection and appreciation. If you're seeking a gift that combines faith with thoughtfulness, then Christian gifts, particularly Christian jewelry, might be the perfect solution. Here's why!
Why Choose Christian Products for Father's Day?
When expressing your heartfelt appreciation, there's nothing like a gift that resonates with the recipient's values and beliefs. As we all know, faith is a significant part of many people's lives, including our fathers. Gifting something that recognizes and celebrates his Christian faith can make your Father's Day gift even more special and touching.
Christian Jewelry, A Gift to Cherish.
One of the most cherished forms of Christian gifts is Christian jewelry. It's a beautiful choice that combines elegance, personal faith, and timeless appeal. Let's delve into a few pieces of Christian jewelry that could serve as meaningful Father's Day gifts.
Christian Rings.
Christian rings, particularly those engraved with Bible verses or religious symbols, can be a powerful reminder of faith. Every time your father looks at his hand, the ring will remind him of his faith and the loving child who gifted it to him.
Cross Necklaces.
A cross necklace is a classic piece of Christian jewelry. It is a constant reminder of Christ's sacrifice and a symbol of hope and faith. This Father's Day, a cross necklace can signify your dad's unshakeable faith and your appreciation for his guidance and love.
Christian Bracelets.
Bracelets engraved with scripture or showcasing Christian symbols like the cross, fish, or dove can be a fantastic Father's Day gift. Choose a piece that matches your dad's style, whether he prefers a subtle leather band or a more conspicuous metal design.
Personalized Christian Gift Ideas.
Religious gifts, predominantly jewelry, can be personalized to align with the wearer's faith journey, making them all the more special. Consider engraving a particular Bible verse, a personal message, or even an important date on your chosen piece of Christian jewelry. These personal touches transform a beautiful gift into a cherished keepsake.
The Gift of Prayer.
In addition to Christian jewelry, consider giving the gift of prayer this Father's Day. Whether it's a prayer book, a journal for him to record his prayers and reflections, or a collection of prayer cards, these Christian gifts can support and enrich your father's spiritual journey.
Other Gift Ideas To Consider For This Occasion.
Home decor items.

Inspiring pieces of wall art.

Gift cards to his favorite stores.

A Christian retreat with the whole family or with his close friends.

 
Shop Glor-e. Celebrate Your Dad And His Faith.
This Father's Day, let us help you celebrate your dad's faith and invaluable role in your life. At Glor-e, we understand the profound meaning and impact of Christian gifts. Our extensive collection of Christian jewelry offers pieces to suit different styles and preferences, making it easy to find a gift your dad will treasure. We make our pieces from the best materials to last more than a lifetime. This is a reflection of our faith as Christians and our commitment to our products.
Our jewelry brand features a wide range of gold and silver articles to suit your inspirational gift needs. We offer free US shipping for orders over $100. That makes finding the perfect present easy without going over your budget. 
Happy Father's Day! Wishing all fathers a wonderful Father's Day filled with abundant love, joy, and blessings. Remember, we celebrate you today and every day for your incredible impact on our lives.
In conclusion, you must take advantage of Father's Day to convey your genuine appreciation and affection for your father. Choosing Christian gifts, particularly Christian jewelry, can make your expression of love even more significant by acknowledging and celebrating his faith. After all, a present that resonates with your father's faith and mirrors his unique journey is one that he will truly cherish.