Learn how to include Christian jewelry in your wedding.
Marriage holds immense significance as a significant milestone in one's life. It's a day when two hearts come together in a bond of love, promising to navigate the journey of life side by side. For Christian couples, this event is more than just a commemoration of their love. It is also a celebration of their faith. And what better way to express that faith than by incorporating Christian jewelry into your special day? Today's blog post will guide you on gracefully including your favorite Christian jewelry elements in your wedding.
When you think of wedding jewelry, the first thing that comes to mind is rings. Exchanging wedding rings has been a time-honored tradition for centuries. It symbolizes the eternal bond between a husband and wife. For Christians, these rings carry an additional layer of significance. Rings, often engraved with a bible verse or religious symbols, are a constant reminder of God's presence in the union and the couple's commitment to leading a Christian lifestyle.
Choosing the Perfect Faith-Based Wedding Rings.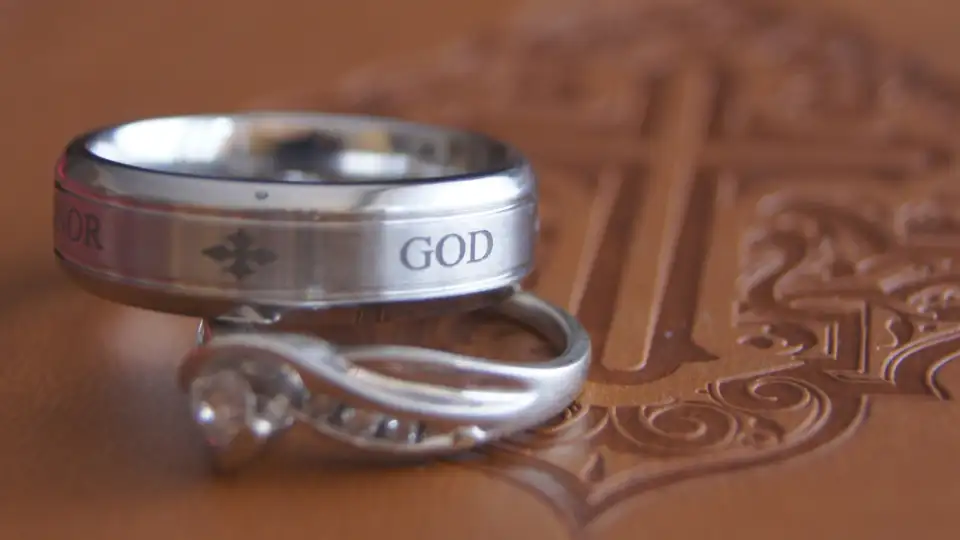 Choosing your wedding rings is a significant step in your wedding planning process. Consider selecting Christian rings that hold personal meaning for you and your partner. It might be a verse with particular significance, a cross, or another Christian symbol. Remember, these rings are something you'll wear every day, so choosing something that resonates with your faith in Jesus and your style is essential.
Incorporating Christian Jewelry into Your Wedding Attire.
Christian jewelry goes beyond rings. Necklaces, bracelets, and earrings can add a touch of faith-inspired elegance to your wedding day look. For instance, a delicate cross necklace can serve as a lovely statement piece and a testament to your faith. A charm bracelet with Christian symbols can add a unique touch to your ensemble.
Remember the groom! A tasteful cross lapel pin or a pair of cufflinks with Christian symbols can subtly express faith while adding to his wedding day style.
Using Religious Jewelry in Your Favorite Wedding Traditions.
You can expect to partake in many customary practices and ceremonies on your wedding day. These moments can be an excellent opportunity to incorporate faith-based accessories.
For instance, many Christian couples perform the unity candle ceremony, symbolizing two becoming one in the presence of God. Consider attaching a small pendant or charm to the handle of your unity candle for an added touch of faith.
Alternatively, you may include a moment in your ceremony where you present each other with tokens, such as a faith-inspired bracelet or necklace, as a symbol of your commitment to upholding Christian-based values in your shared life.
Faith-Based Jewelry as Bridesmaid and Groomsmen Gifts.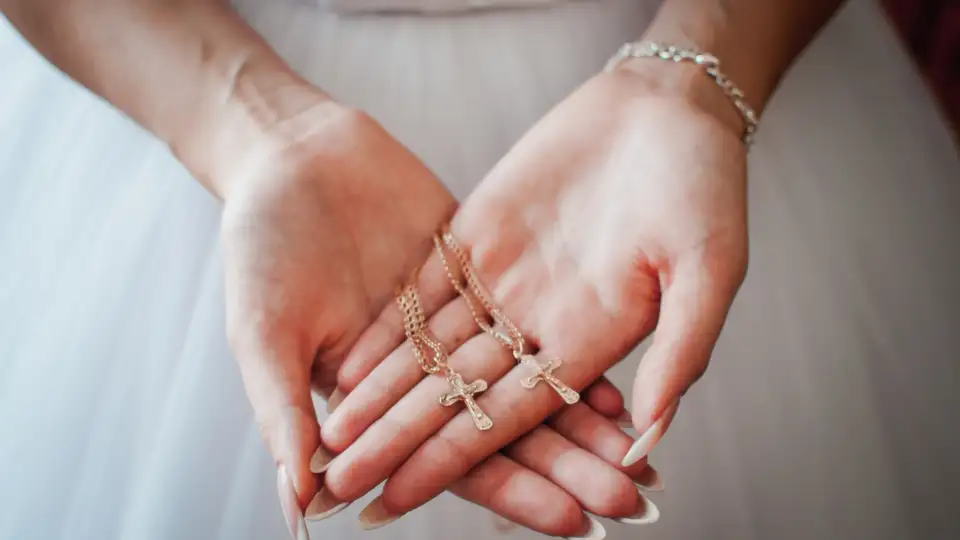 Your wedding day is a celebration between you and your spouse and an occasion to cherish with your loved ones. Bridesmaid and groomsmen gifts are a thoughtful way to show appreciation, and jewelry makes for a memorable and meaningful gift. A delicate cross pendant or a bracelet engraved with a particular verse makes a lovely token of gratitude that your bridal party can cherish for years.
In Conclusion: Celebrating Love, Truth, and Faith.
Your wedding day is a significant milestone. A new chapter in your journey as a follower of Christ starts with it.  Faith-based jewelry adds a beautiful layer of faith-inspired elegance to your celebration, whether through your wedding rings, attire, or even the gifts you give. Incorporating this type of jewelry into your wedding is a meaningful way to express your faith and love for each other.
At Glor-e, we believe in the power of religious jewelry to express and celebrate faith. Explore our wide range of collections, where you'll find various pieces perfect for your wedding or any occasion that requires a faith-filled celebration. Our jewelry selection is more than just beautiful; it's a testament to the power of faith, hope, and love.
Your wedding day celebrates your love, commitment to each other, and faith in God. Remember, your divine conviction is unique and personal. It must be personalized to reflect your unique identity as a couple. Feel free to exercise your creative freedom and incorporate religious pieces of jewelry in a way that feels right and inspires confidence.
Here's to celebrating love, faith, and a lifetime of happiness! Wishing you both abundant joy, love, and blessings on your wedding day as you begin this beautiful faith journey together. May your commitment to each other be strengthened with each passing day.
Shopping For Gold Or Silver Religious Jewelry To Incorporate In Your Wedding?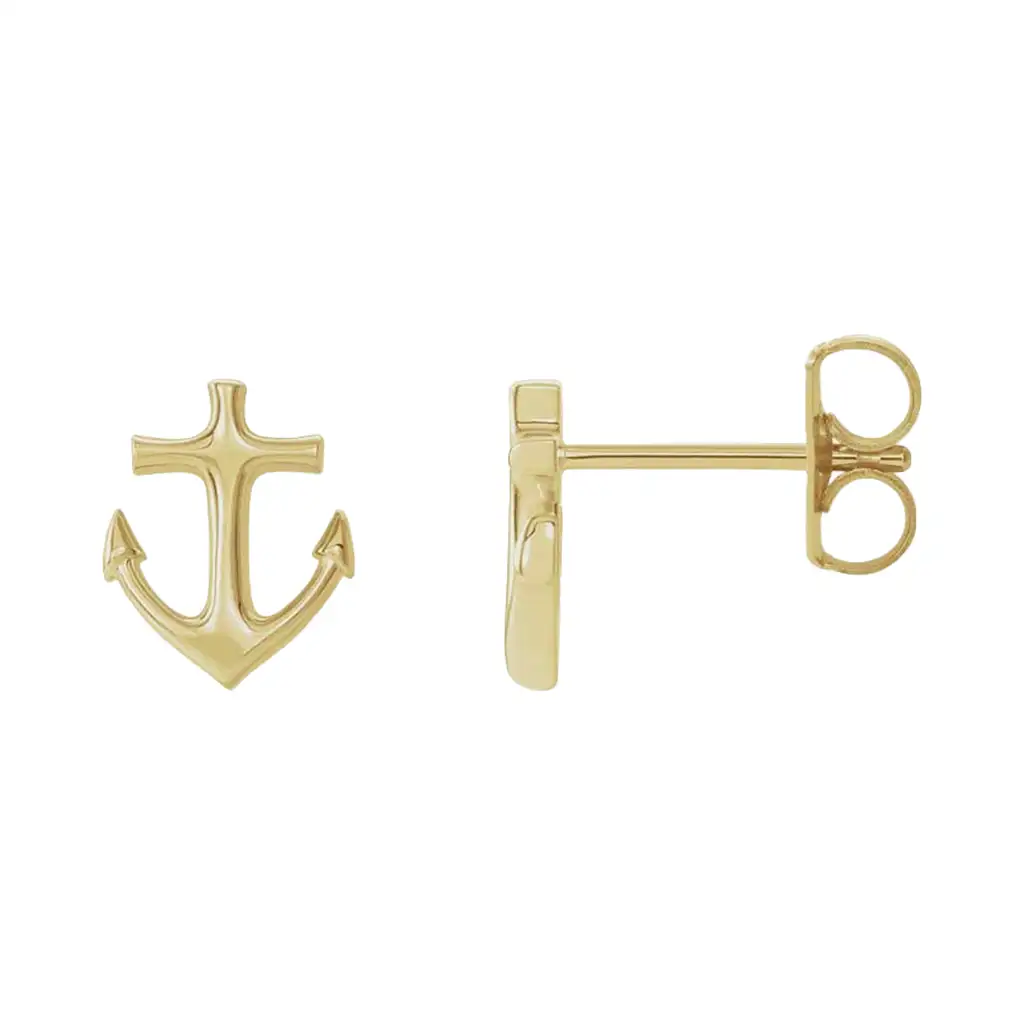 Look no further than Glor-e's diverse and unique collections. From exquisite rings inscribed with scripture to delicate cross necklaces and bracelets, we offer a variety of pieces that effortlessly blend faith with elegance. Our carefully curated collection caters to every style preference, whether you favor a simple, classic design or an intricate, contemporary style. With Glor-e, you don't just purchase jewelry. You choose symbols of faith and commitment that resonate with your lifestyle as a follower of Jesus Christ. We thoughtfully design each piece in our collection to serve as a physical testament to your dedication, making them perfect for incorporating into your Christian wedding. Celebrate this milestone in your life with Glor-e's Christian jewelry and make your special day even more meaningful.
As Our Customer, You Get the following And Many More:
Shipping on orders of $100 or more is free in the US.

Hassle-free & Friendly return process.

High-quality products with unique designs in both Sterling Silver and Gold.

Budget-friendly price.

Dedicated Gift Collections and gift card availability.